Mardi Gras Hotel
Premier party season in New Orleans
Perhaps it's the anticipation of the merriment, the excitement of catching throws, the extravaganza of the parades, getting dressed up in costume, or going to a Ball -- but a frame of mind takes over the Big Easy and says "forget your problems and have fun!"
Mardi Gras officially starts at Twelfth Night, which occurs 12 days after Christmas on January 6th. There are several celebrations around the city, and it is a great day here at our Mardi Gras hotel in New Orleans. It means for us King Cake Lovers, that the bakeries around town will have King Cake for sale! Mardi Gras Day (which is also Fat Tuesday) is the last day of the Mardi Gras Carnival season. Mardi Gras day falls on a different day each year. It is always 46 days before Easter.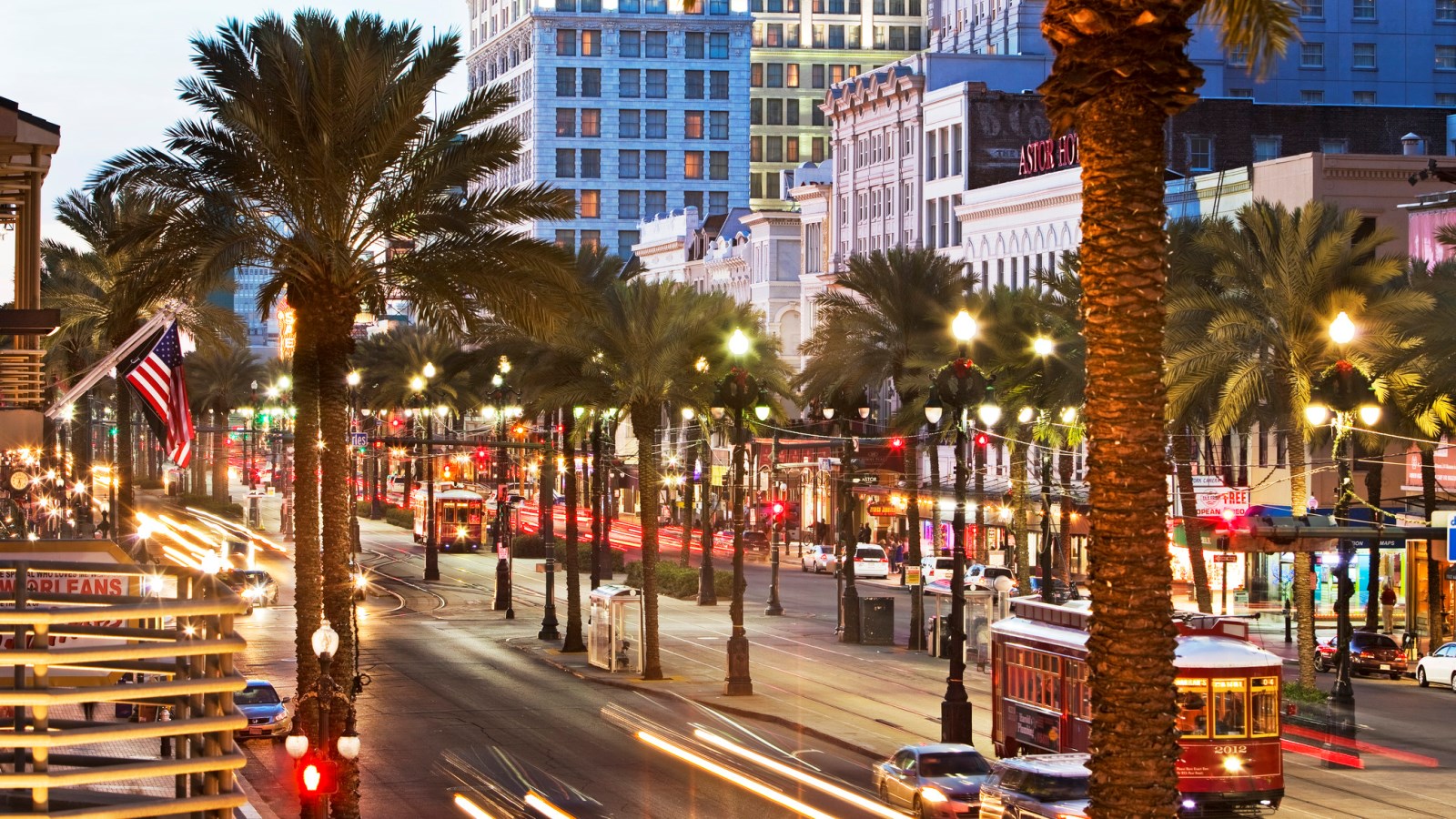 Viewing Stands
Tickets will be come available for parardes closer to the event. The parades will pass directcly in front of the hotel. In addition to the noted parade, there may be a parade either preceding or following on the other side of Canal St. (across the "neutral ground", or "median" as the rest of the country calls it), meaning it would not roll immediately in front of the stands.
We offer two ticket options; the first is for viewing stand access only, the second is for viewing stand plus the drink package. This will include an open bar in Pelican Lobby Bar, located inside the Sheraton New Orleans. The package includes well mixed drinks, house wines, domestic beers and soft drinks to begin one hour after the start of the parade and ending 30 minutes after the passing of the parade. The drink package privileges are nontransferable.
On Mardi Gras Day, we will have a special package for the Krewe of Rex! The Mardi Gras Day package includes access to the breakfast buffet, bloody mary's & mimosas in Roux Bistro, located on the 2nd floor of the Sheraton New Orleans. You will also enjoy front row seats in our viewing stands as Mardi Gras comes to an end. Ticket details and schedules to come.
• Knights of Babylon, Chaos, and Krewe of Muses
• Le Krewe d'Etat and Krewe of Morpheus
• Krewe of Mid-City
• Krewe of Orpheus
• Krewe of Rex
Hotel Access & Parking during Mardi Gras
During Mardi Gras, there will be some local street closures due to parades, so please allow extra time when traveling to the hotel. Access to the hotel over Mardi Gras will be limited to registered guests only. Registered guests will be identified by wearing a hotel issued wristband. The hotel will have very limited parking over these dates and will be available on a first come, first serve basis with no in/out privileges. Please contact the hotel for further information.
Visit www.mardigrasguide.com for more information and parade routes.
For more Things To Do In New Orleans click here.
Mardi Gras 2018 Special Offers
at Sheraton New Orleans Hotel
See below for special offers that include customized, exclusive amenities and once-in-a-lifetime experiences.
Mardi Gras Ultimate Insider's Experience
Perfect for anyone looking to check 'Mardi Gras' off their Bucket List in style, our Mardi Gras Insider Experience is available for travel 2/5/18 - 2/19/18. Watch the spectacle from historic Canal Street, the most celebrated parade route in the world while enjoying the adjacent legendary French Quarter. Guests will enjoy the following benefits during their stay:
Accomodations in an Executive Suite with access to the Club Lounge
2 welcome Hurricane cocktails, an Arthur Hardy's Mardi Gras Guide Book and specialty Mardi Gras beads to get the party started
Chance of a lifetime for 2 people to ride in the Krewe of Orpheus parade, co-founded by Harry Connick, Jr., the only co-ed Super Krewe and Mardi Gras' most eagerly anticipated parade
2 Ornate krewe costumes, unique masks and safety harnesses for float ride
All beads and other one-of-a-kind parade day throws which will be loaded on the float for you
Krewe luncheon on parade day
2 seats at the Orpheuscapade, the magical celebration which follows the parade and features an all-star musical line up with dancing until dawn
Catering basket for the Orpheuscapade including hors d'ouevres and a bottle of your favorite adult beverage
2 tickets to the Sheraton New Orleans Hotel parade viewing stands on Mardi Gras day
Mardi Gras Recovery Kit that includes Bloody Mary's or mimosas for two (plus a pain reliever!)
5 night stay is required and full prepayment will be due at the time of booking.
Book online or call 866-716-8134 and mention rate plan LCV.
Terms & Conditions
© 2017 Starwood Hotels & Resorts Worldwide, Inc
2018 Mardi Gras Party Experience
Our Mardi Gras Party Experience is perfect for guests looking to be in the heart of the excitement and leaves plenty of time in your schedule for fun! Guests will enjoy:
Accommodations in a standard King/double guestroom
2 welcome Hurricane cocktails, Arthur Hardy's Mardi Gras Guide Book and specialty Mardi Gras beads to get the party started
Complimentary high speed internet access
2 Night stay required, full prepayment due at the time of booking.
Book online or call 888-627-7033 and mention rate plan LNC.
Terms & Conditions
© 2017 Starwood Hotels & Resorts Worldwide, Inc