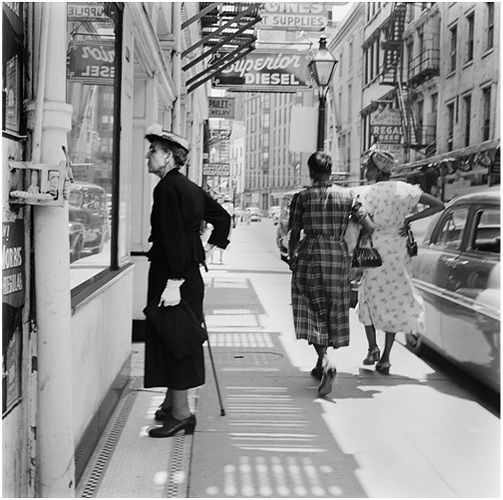 We are thrilled to partner with the Jack Robinson Archive and Professor Sarah Wilkerson Freeman (historian and curator) in order to bring you examples of the famed photographer's work throughout our hotel. Currently, twenty-four of Robinson's 1950s street portraits are on display in the Canal St. windows of our hotel, where they now hang in a double-sided installation with twelve large format images suspended at street-level, easily seen by the public, and another twelve visible from inside our lobby. An additional twelve have been installed in the lobby's interior and plans have been made to extend the exhibition into other spaces within our hotel, making the project a virtual museum.
These images were among thousands of negatives discovered in the home of photographer Jack Robinson after his death in Memphis, Tennessee in 1997. They are part of an extensive collection of photos Robinson produced during the 1950s in New Orleans where he began his career.
Equipped with a Rolleiflex camera and Kodak Safety Film, Robinson explored and captured on film the cityscapes of 1950s New Orleans. His street portraits show a visually rich world of nineteenth-century architecture and modern glass and steel skyscrapers, an intimate place where workmen, shop girls, nuns, businessmen, sailors, and white-gloved ladies--black, white, Creole--mingled on the sidewalks and neutral ground as they moved in and out of the French Quarter, on one side of Canal Street, and the Central Business District, on the other.
It has been nearly sixty years since the photographer captured these images that remind of us of the beauty, spirit, personalities, and energy of a great city. Most of the exhibit photographs were taken in the vicinity of the 500 block of Canal St.
For further information on the Jack Robinson Archive, and to view more of his work, please visit http://jackrobinson1950neworleans.com