Mardi Gras Hotel
Premier party season in New Orleans
Perhaps it's the anticipation of the merriment, the excitement of catching throws, the extravaganza of the parades, getting dressed up in costume, or going to a Ball -- but a frame of mind takes over the Big Easy and says "forget your problems and have fun!"
Mardi Gras officially starts at Twelfth Night, which occurs 12 days after Christmas on January 6th. There are several celebrations around the city, and it is a great day here at our Mardi Gras hotel in New Orleans. It means for us King Cake Lovers, that the bakeries around town will have King Cake for sale! Mardi Gras Day (which is also Fat Tuesday) is the last day of the Mardi Gras Carnival season. Mardi Gras day falls on a different day each year. It is always 46 days before Easter.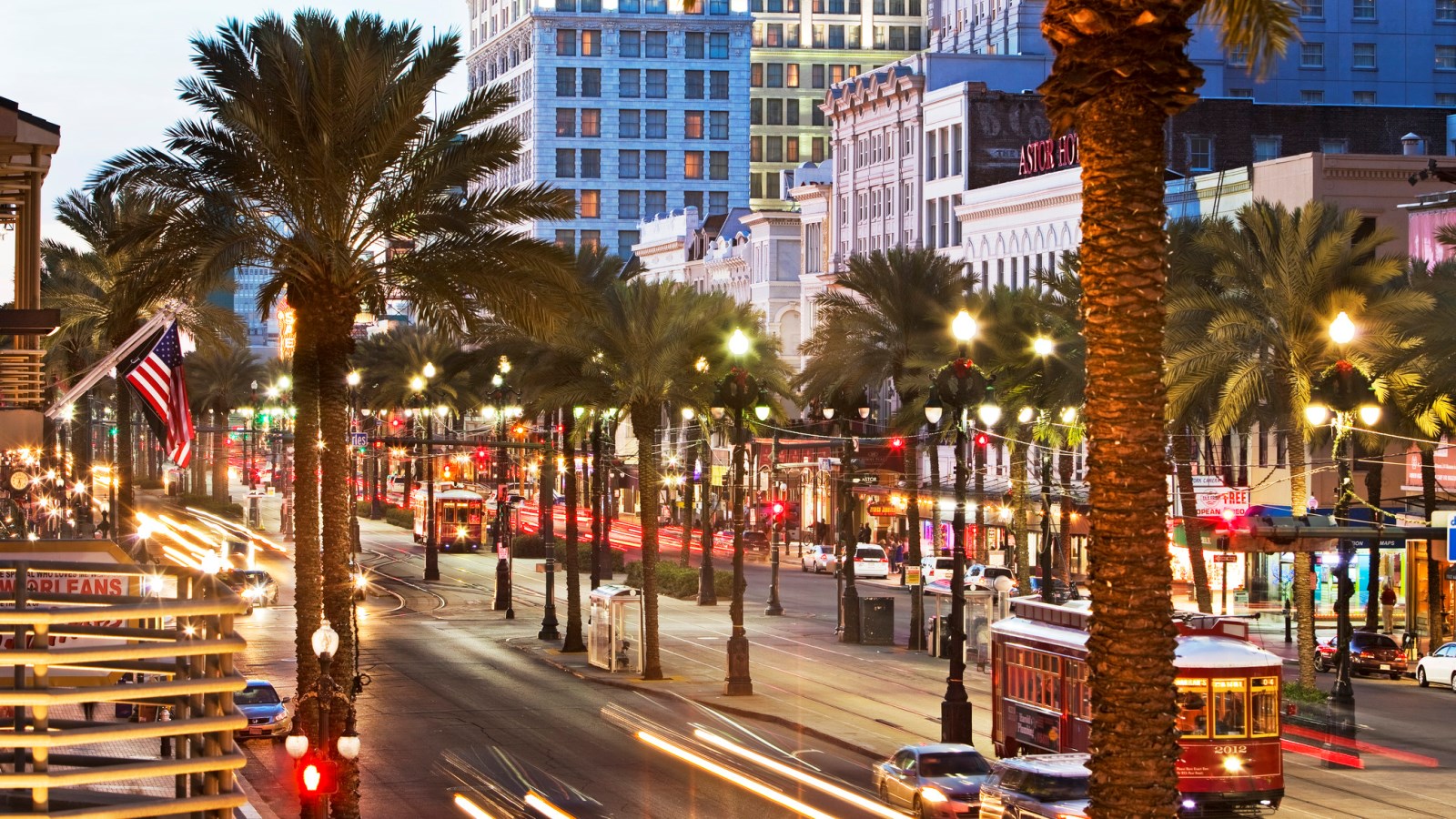 Viewing Stands
The parades will pass directly in front of the hotel. In addition to the noted parades, there may be a parade either preceding or following on the other side of Canal St., located across the median from the hotel.
We are pleased to offer our guests two ticket options.

Ticket Option 1: Includes viewing stand access only.
Ticket Option 2: Includes exclusive drink options, in addition to viewing stand access. Guests will receive 3 drink tickets for house brand wine, well brand cocktails, or draft beer at the Pelican Lobby Bar. Drink service begins 1 hour before the start of the parade, up until 30 minutes after the parade. Drink tickets are non-transferable and only apply for the time of the parades they were purchased for.

Tickets are available for the following parades:
February 2, 7:00 PM Oshun & Cleopatra
February 3, 2:00 PM Pontchartrain, Choctaw & Freret
February 3, 7:00 PM Knights of Sparta, & Pygmalion
February 4, 12:00 PM Femme Fatale, Carrollton, King Arthur and Merlin, & Alla
February 7, 7:30 PM Krewes of Druids, & Nyx
February 8, 7:30 PM Muses
February 9, 8:00 PM Morpheus
February 10, 12:00 PM Iris
February 11, 12:00 PM Okeanos, Mid-City, &Thoth
February 11, 6:15 PM Bacchus
February 12, 7:00 PM Orpheus
February 13, 11:00 AM Rex
Hotel Access & Parking during Mardi Gras
During Mardi Gras, there will be some local street closures due to parades, so please allow extra time when traveling to the hotel. Access to the hotel over Mardi Gras will be limited to registered guests only. Registered guests will be identified by wearing a hotel issued wristband. The hotel will have very limited parking over these dates and will be available on a first come, first serve basis with no in/out privileges. Please contact the hotel for further information.
Visit www.mardigrasguide.com for more information and parade routes.
For more Things To Do In New Orleans click here.
Mardi Gras 2018 Special Offers
at Sheraton New Orleans Hotel
See below for special offers that include customized, exclusive amenities and once-in-a-lifetime experiences.